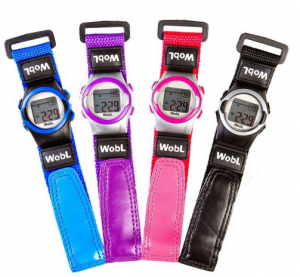 "Pay attention."     "Go to the bathroom."
"Get a drink of water."     "Eat."
"Take your meds."    "Pay attention."     "Move to the next problem."
Hearing the nagging voice of a teacher or a parent all day long is enough to drive anyone to distraction. Thankfully, there are products on the market that can alarm, buzz, vibrate, and/or blink, reminding our child to do what he or she is supposed to do. Our boys fought over our timer. And boy did it help them stay on task, especially when they were cleaning their room! Timers for ADHD are invaluable. But what about when your kid is on the move?
There are all sorts of reminder devices, and you may want to try – and use – a couple of different kinds. We really like watches that are designed for ADHD kids, like the WobL one pictured above.
ADHD/ADD Watches
When choosing an ADHD watch, keep in mind the following questions:
Will this embarrass my child? Does it have a silent vibrator? Is it ugly, or obviously a 'medical' device?
Is the alarm noticeable enough? Is it loud or bright? Does it last long enough?
Can the alarm sounds be varied?
How easily can the device be programmed?
Can you set the alarm to sound a different intervals?
How portable is the device?
Does it have a countdown or stopwatch feature?
Can you record a voice on it?